The retina is a layer of tissue in the base of your eye that senses light and sends images to your brain. Retina is one of the 4 important structures responsible for vision. Retina senses the light and converts to electrical impulse which is carried to the brain via the optic nerve.
Severe vision related issues can occur when there is damage to the retina & optic nerve.
Aashirwad eye hospital has a fully equipped retina clinic to manage retinal disorders such as diabetic retinopathy, age related macur degeneration, retinal detachment, macular hole, infection & trauma, medically as well as surgically.
RETINA SYMPTOM CHECKER
Sudden appearance of floaters
Blurring of vision
Flashes of light
Visual field defects
Loss of vision
RETINAL IMAGING
Retinal imaging is the process of photographing the retina, or the back of the eye. Depending on the diagnosis, several imaging modalities are used. The most popular methods are angiography, fundus photography, and optical coherence tomography. Imaging is crucial in the diagnosis of a number of diseases, including age-related macular degeneration, hypertensive retinopathy, and diabetic retinopathy.
Imaging enables your doctor to spot early or subtle changes in retinal illnesses that are missed during a standard eye check-up. The proper treatment of illnesses depends on their early diagnosis. Also, imaging helps your doctor better explain your situation to you and your family members. Also, by comparing those to later photos, it aids in tracking the disease's development.
To aid in diagnosis & progression of the disease, we use highly advanced retinal imaging system.
Optos ultra wide field imaging system
Fundus fluorescein angiography
OCT macula
OCT- Angiography
B – scan
Patient consultation flow while visiting retina clinic at AEH RETINAL DIAGNOSIS
Diabetic Retinopathy
As a consequence of diabetes mellitus, diabetic retinopathy develops as a result of the deterioration of blood vessels in the retina. Retinal blood vessel breakdown may cause fluid to leak into the retina's center causing macular edema, or it may cause the growth of aberrant blood vessels on the retina's surface (neovascularization), which can bleed and scar, impairing central and perhaps peripheral vision.
There are two major types of diabetic retinopathy : non-proliferative and proliferative.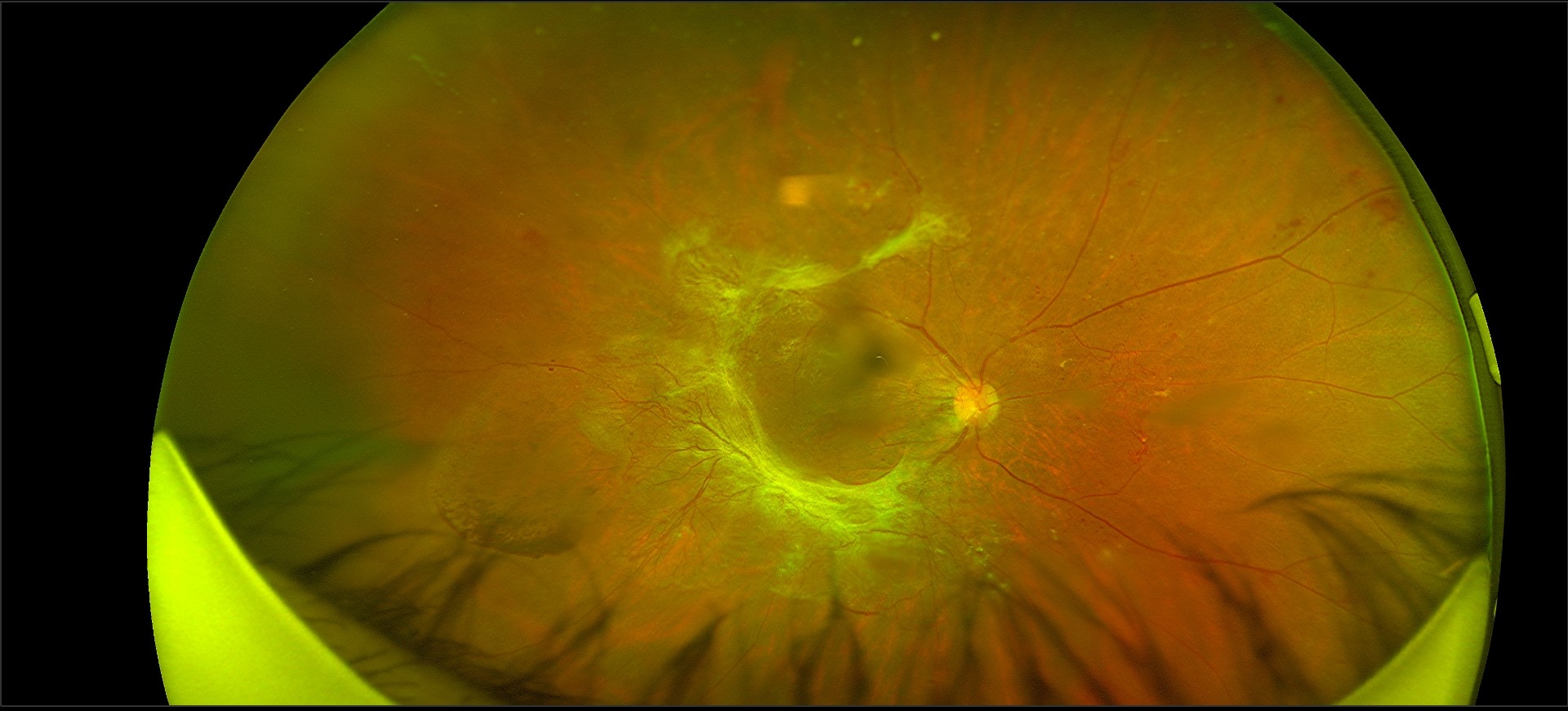 Age-Related macular degeneration
Age-related macular degeneration (ARMD) is a widespread, complex, degenerative disorder affecting persons 50 years of age and beyond that causes central vision loss (affecting the macular) and, as it progresses to more severe stages, makes it difficult to read, drive, or see someone's face.
Primarily ARMD is classified into 2 : Dry ARMD and Wet ARMD.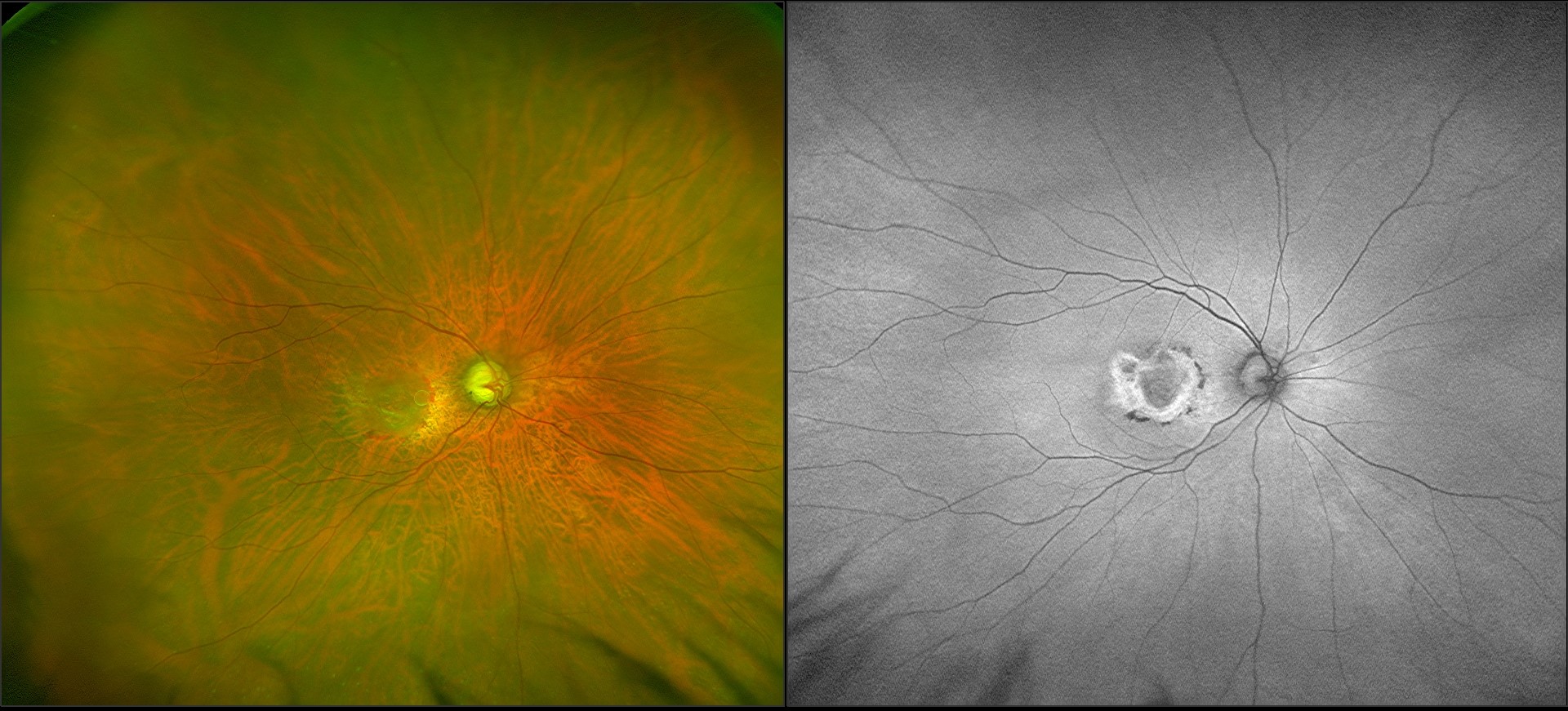 Retinal Vein Occlusion A blockage in the ocular blood vessel known as retinal vein occlusion can cause vision loss. Used blood is cleared from the retina via the retinal veins, and when one of these veins is blocked, the used blood cannot leave the retina, which results in swelling and haemorrhage (bleeding).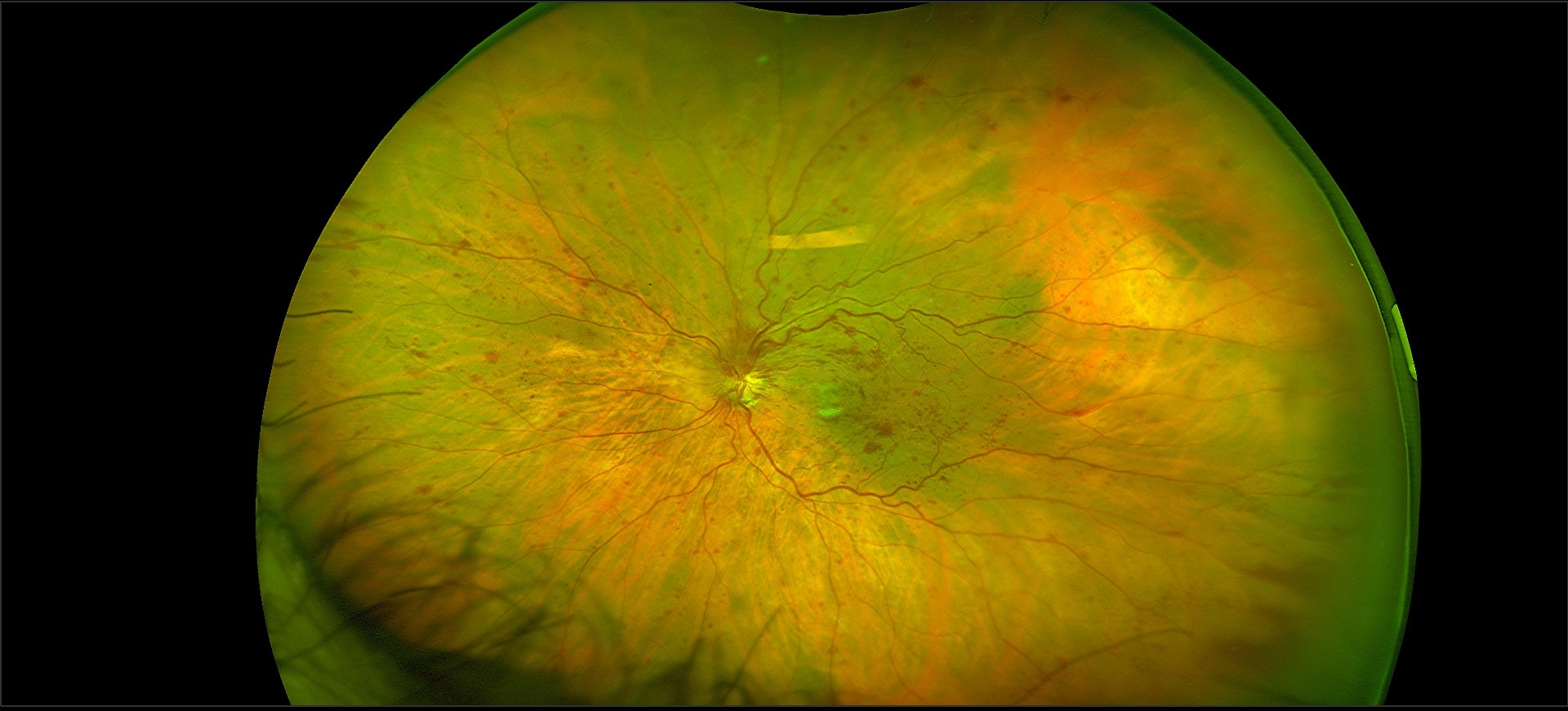 Central Serous Chorioretinopathy (CSCR) The disorder known as CSCR results in fluid buildup in the retina's center (Macula). The choroid, a layer of blood vessels behind the retina, is leaking fluid. Men are more likely to have it, and it usually happens between the ages of 25 and 50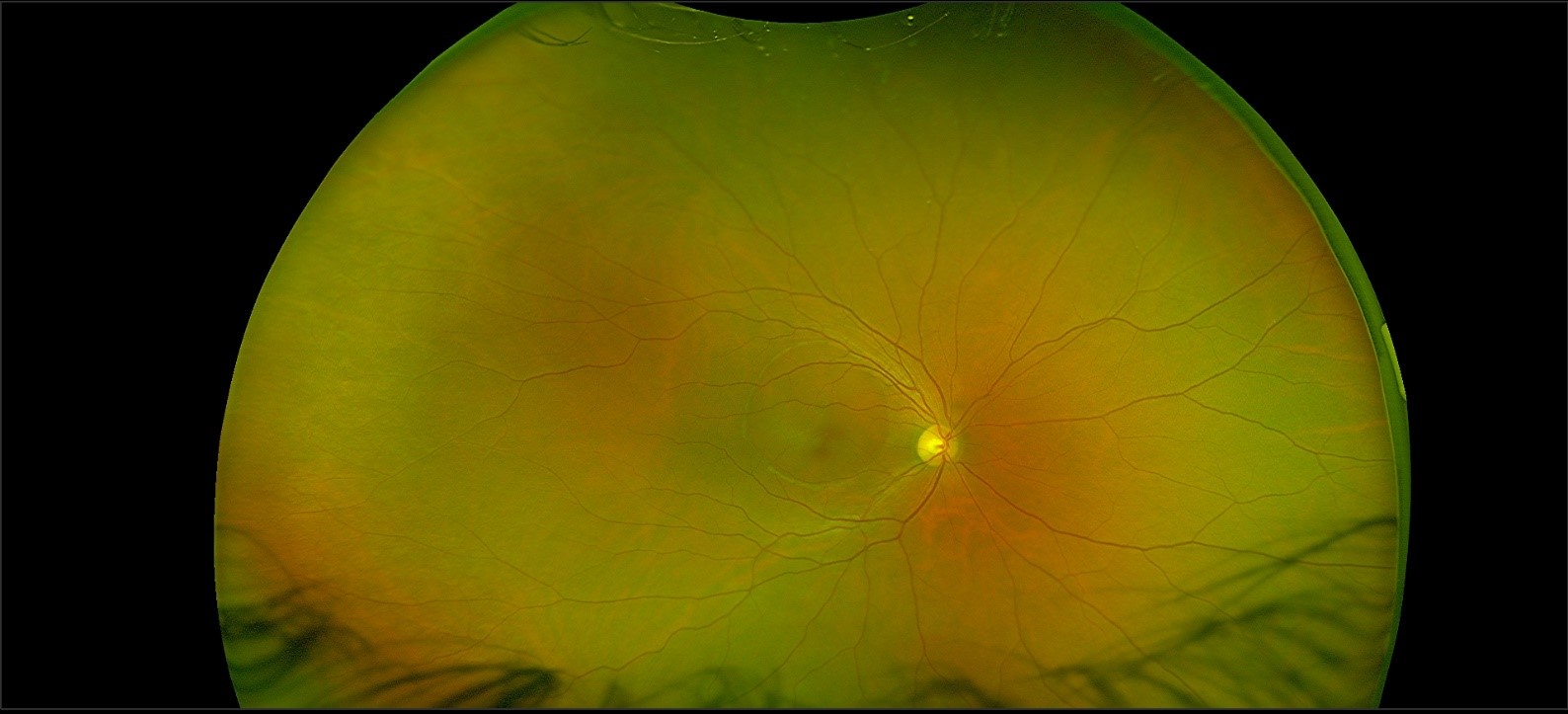 Retinal Detachment
The retinal layers separate in a retinal detachment. Retinal detachment causes gradual loss of peripheral and, eventually, central vision over time. In the majority of instances, complete and permanent blindness ultimately sets in if untreated.
The most frequent kind of retinal detachment, called rhegmatogenous, is brought on by a break, tear, or hole in the retina that allows fluid from the eye's vitreous chamber to pass under the retina and separate it from the eye wall. Retinal tears and related detachments of the retina frequently occur suddenly and without warning. Detachment can occur after trauma, however it typically results from the vitreous gel separating from the retina. The vitreous gel liquefies with time as we become older.
Myopia (nearsightedness), particularly areas of thinning in the peripheral retina (lattice degeneration), family history, prior eye surgery, and trauma are risk factors for developing retinal tears and detachments.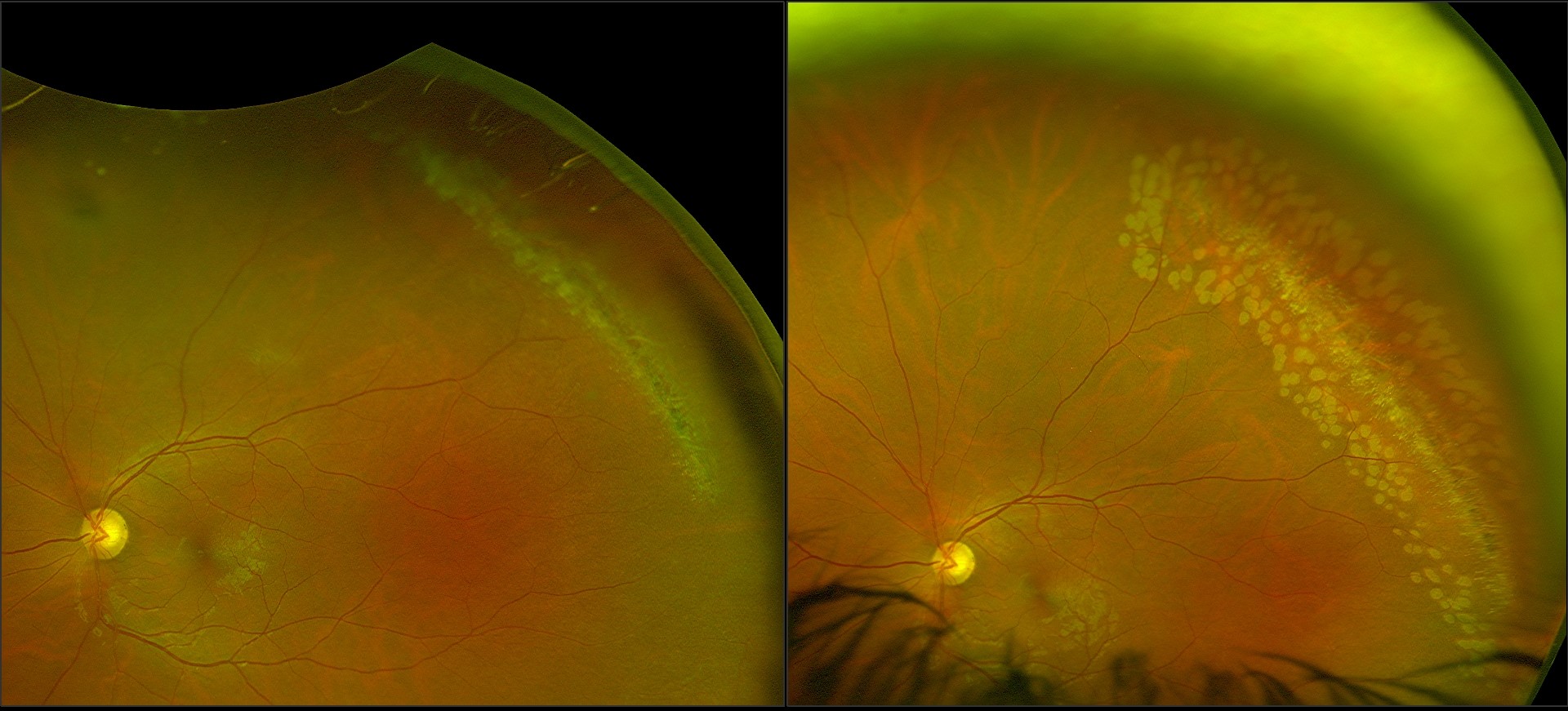 The number and extent of retinal tears, the patient's age, and other variables can all affect how quickly a retinal detachment progresses, ranging from days to weeks.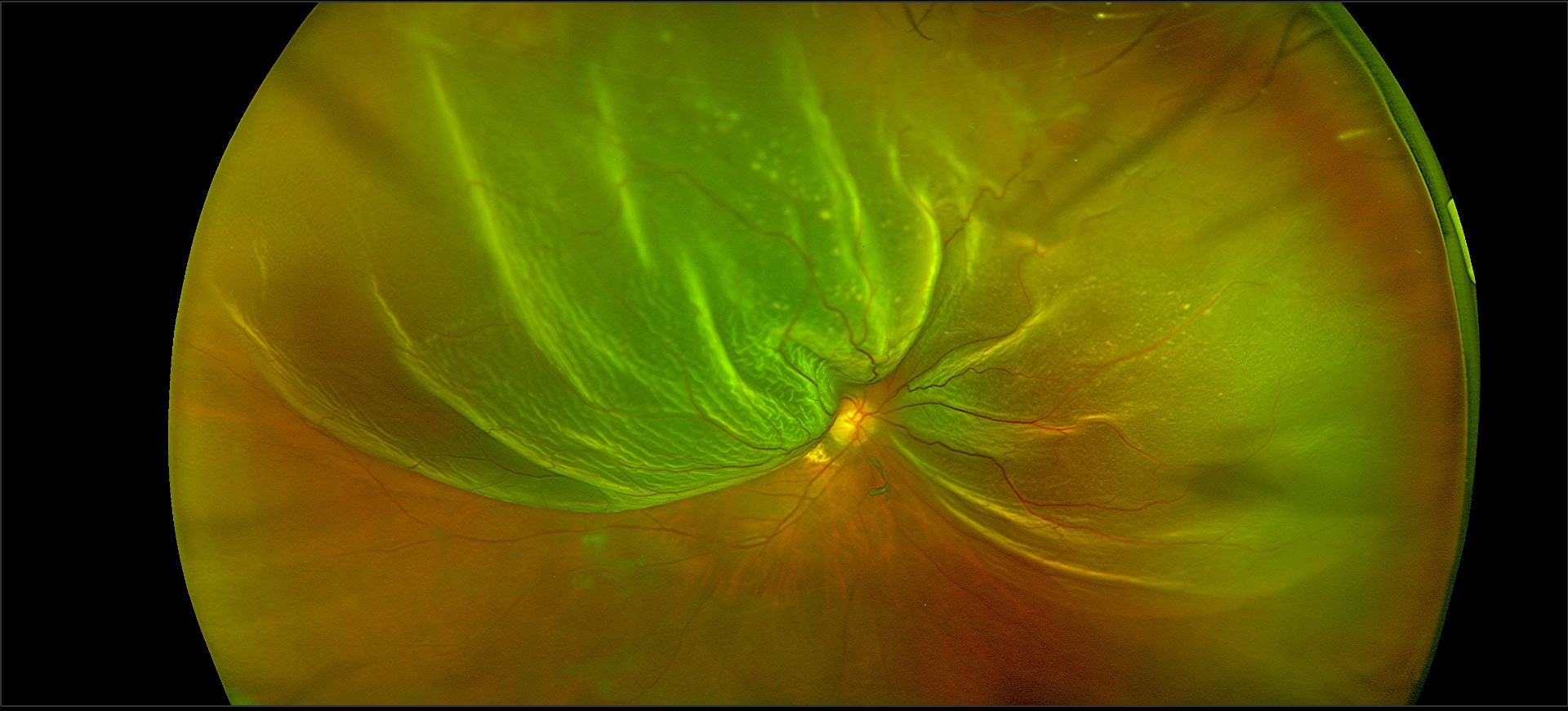 Retinal detachment, retinal tear, and vitreous detachment symptoms may coexist and include:
Suddenly developing floaters (mobile blackspots or cobwebs in the vision)
An abrupt onset of visual flashes
distorted vision
loss of peripheral vision over time that manifests as a shadow or curtain (this corresponds to the retina detaching)
On Examination – Diagnosing and treating a retinal detachment need a thorough ocular examination. The ophthalmologist will be able to view one or more retinal tears with various quantities of underlying fluid through dilated pupils. When a retinal tear affects a retinal blood artery, there may also be some vitreous bleeding.
Even after a successful reattachment, retinal detachments frequently result in some permanent loss of central visual acuity or visual field. If the detachment is discovered and treated before it affects the center of the retina, the final visual results will be the best (macula). After retinal detachment surgery, eyesight may or may not become better with a new pair of glasses. Visual acuity is often poor with long-standing retinal detachments or those with accompanying scar tissue (proliferative vitreoretinopathy).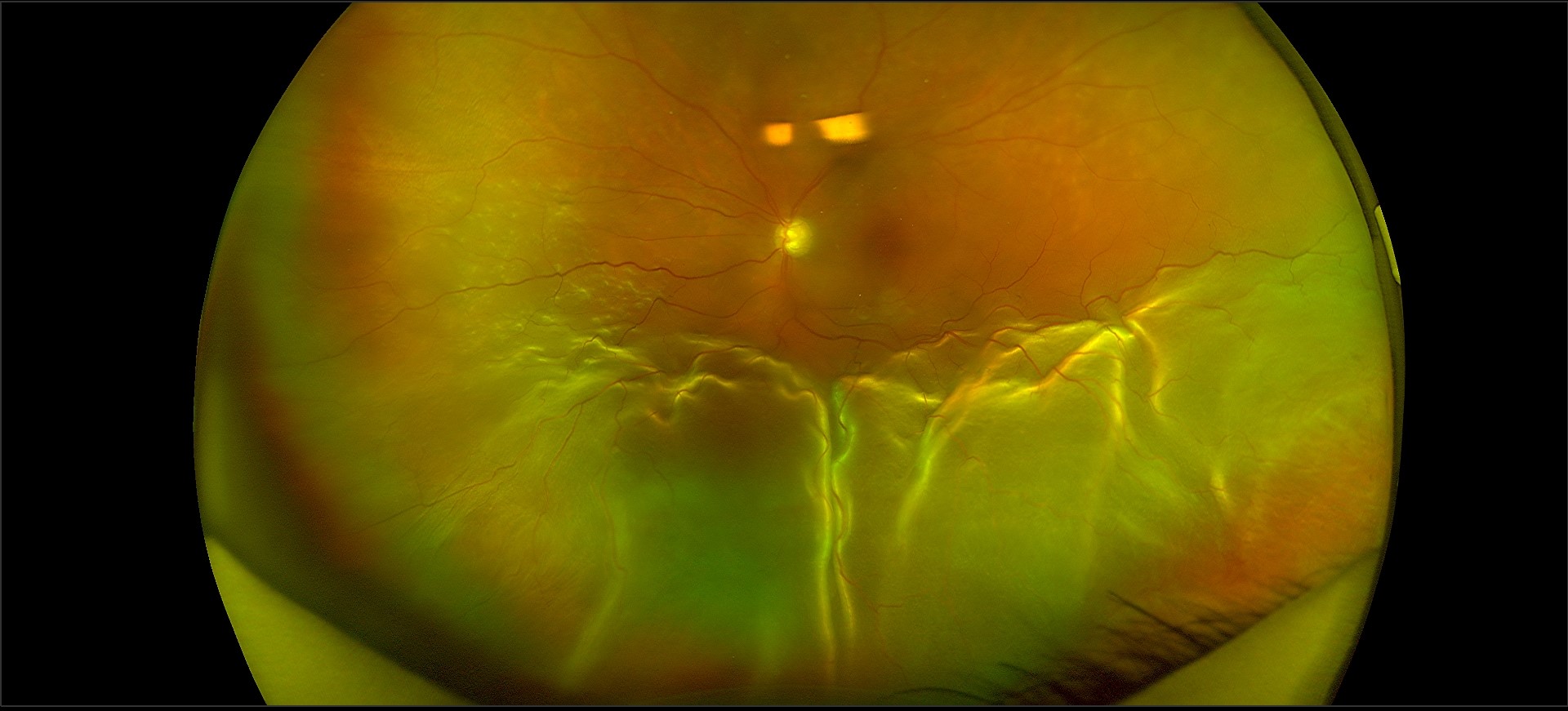 Retinal detachment treatment and prevention – Laser or cryotherapy (freezing treatment) to the retinal tear is frequently successful in sealing the retinal defect, preventing a retinal detachment, if a retinal hole or tear is discovered before there is retinal separation. Retinal reattachment surgery is often necessary if a retinal detachment has already occurred.
VITREORETINAL SURGERY  
Aashirwad Eye Hospital includes a fully equipped operating theatre for vitreoretinal surgery. Using the most recent tiny gauge micro incisional vitrectomy equipment, procedures are carried out for a range of retinal problems including retinal detachment, severe diabetic eye disease, vitreous haemorrhage, endophthalmitis, macular hole, and epiretinal membrane. Moreover, pneumatic retinopexy and scleral buckle surgery are frequently used to treat rhegmatogenous retinal detachment. The fixation of the scleral fixed intraocular lenses manages complications following anterior segment procedures, such as dislocated nucleus and intraocular lens dislocation.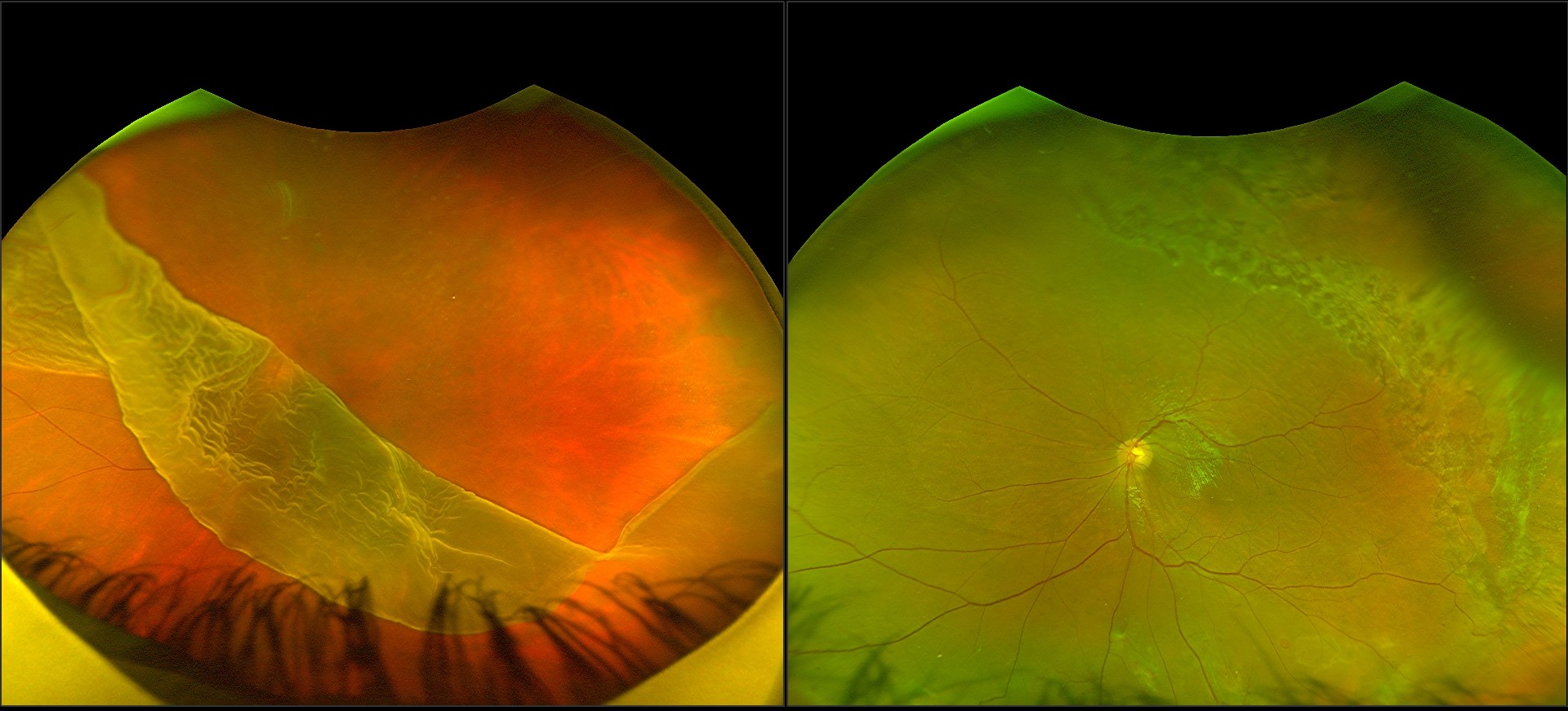 RETINA FAQs
WHO ALL NEED A RETINA CHECK-UP?
It is recommended that people with high numbers, all diabetics and people > 40 years of age get the retina checked at least once a year.
HOW DOES THE DOCTOR CHECK MY RETINA?
By putting some drops called "mydriatics" which dilate the pupils. The retina is the examined by an instrument called the "indirect ophthalmoscope".
CAN I DRIVE BACK AFTER A RETINA CHECK-UP?
Will someone need to accompany me for the check-up? – the pupillary dilatation can often cause significant blurring of vision for 4-6 hours. It is therefore recommended not to drive after the test. It is for the same reason that we often ask someone to accompany the patient for the test. (especially patients with already poor vision)
WHAT IS DIABETIC RETINOPATHY?
Diabetes affects the retinal capillaries and other blood vessels. The effects of these on the retina is termed diabetic retinopathy.
DO ALL DIABETICS NEED A RETINA EXAMINATION?
Yes. Why did my diabetologist advise me a retina/fundus examination? – to check for diabetic retinopathy, a disease that can permanently damage vision.
HOW DOES DIABETIC RETINOPATHY AFFECT VISION?
It affects vision by producing swelling in the macula (called macular oedema) or by producing new blood vessels in the eye (neovascularization) which can then lead to vitreous haemorrhage or retinal detachment.
DO ALL MYOPES NEED A RETINAL EXAMINATION?
Yes, it is preferable. People with numbers are more prone to develop weak areas (Lattice Degeneration) and retinal holes. They are also at higher risk of retinal detachment, especially if there is also a family history.
WHAT ARE THE SYMPTOMS OF RETINAL TEAR/DETACHMENT?
A sudden appearance of floaters, flashes that persist even after eye closure, curtain-like field loss and loss of vision.
DOES RETINAL LASER REQUIRE ADMISSION?
No. retinal lasers are outpatient procedures (OPD).
IS RETINAL LASER PAINFUL?
No. but there is some discomfort during the procedures and few patients may complain of mild pain. Lasers are generally well tolerated.
WHAT IS AGE-RELATED MACULAR DEGENERATION?
Age related macular degeneration (ARMD) refers degenerative changes occurring in the central retina characterized by deposition of a yellow material called Drusen. ARMD is of 2 types: Dry or Wet In wet ARMD, there is a collection of fluid or blood under the retina.
ARMD cannot be reversed. Its progress can only be slowed or arrested to some extent.
Avastin (Bevacizumab) is an anti-VEGF drug injected into the eye for treatment of diseases like WET ARMD and macular oedema due to diabetes or retinal vein occlusions. It is not FDA approved.
WHAT IS LUCENTIS/ACCENTRIX?
Accentrix (ranibizumab) previously known as Lucentis is the FDA approved and current GOLD STANDARD for treatment of wet ARMD worldwide. It is also approved for macular oedema due to diabetes and vein occlusions. It belongs to the anti-VEGF group.
WILL THERE BE ANY PAIN DURING IR AFTER THE INJECTION?
Not really. The eye is made numb with the help of drops and the drug is injected into the eye via a microneedle.
DO WE NEED TO STAY IN THE HOSPITAL AFTER THE INJECTION?
The injections per say take just a few minutes. The patient is immediately allowed to go home.
CAN WE RESUME WORK THE NEXT DAY?
Yes, as long as you use the eye drops as advised.