CATARACT IS CURABLE. DON'T LET CATARACT SYMPTOMS AFFECT YOUR QUALITY OF LIFE.
Cataract is a leading cause of age-related preventable blindness worldwide
Did you know that 62.6% of all blindness in India is a result of cataract, which means that it is reversible with timely surgery and can be completely avoided?
Cataract is a commonly occurring vision problem that develops as you grow older, due to clouding of the eye's natural crystalline lens caused by a gradual build-up of proteins. Most people develop cataracts after the age of 60, in one or both eyes. Cataract symptoms include hazy, blurred or double vision, sensitivity to light and glare, difficulty seeing in poor lighting conditions, difficulty in distinguishing contrast changes, and dull colours. Without cataract treatment, your vision will continue to deteriorate and affect daily activities.
Cataract eye surgery is one of the most commonly performed procedures worldwide, where the cloudy natural lens is removed and replaced with an artificial intraocular lens for clear vision. Advances in cataract surgery techniques have made this procedure efficient and safe, with more predictable refractive outcomes, minor or very rare cataract complications, and quicker cataract surgery recovery time.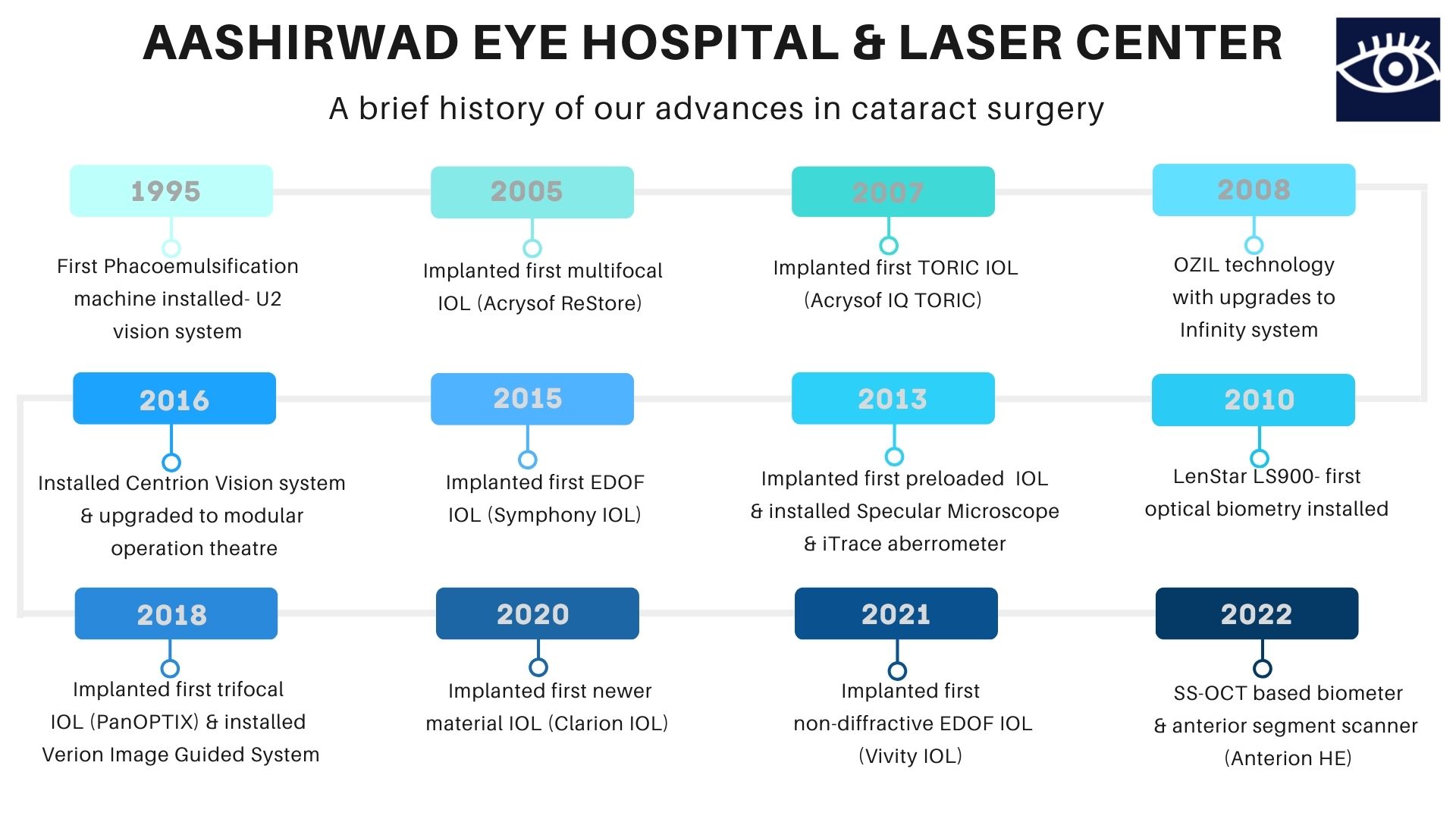 Cataract surgery patients at aashirwad eye hospital are offered an individualized treatment plan based on the age, the severity of cataract vision loss, and daily activities to obtain the best vision possible post-cataract surgery. We also give special care to other pre-existing eye conditions like glaucoma and/or diabetic retinopathy while preparing you for your cataract surgery.
CATARACT SYMPTOMS :
Cataract does not cause any observable changes in early stages, As the cataract progresses, symptoms can include :
Blurred, cloudy or dim vision
Difficulty seeing at night or in low-light situations
Being sensitive to bright lights and glare
Seeing halos
Needing stronger glasses and more frequently
Colours appearing faded or yellow
Double vision in the affected eye.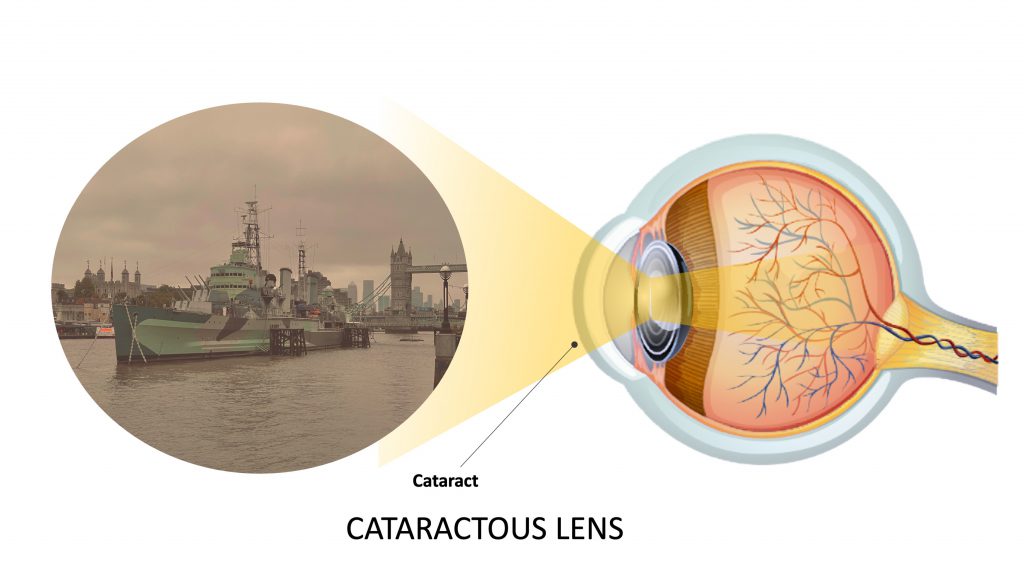 Aashirwad Eye Hospital is an all-in-one centre for cataract diagnosis, pre-surgery evaluation, cataract treatment and post-surgery care.
ADVANTAGES AT AEH :
Patient friendly staff

Unmatched safety standards

Equipped with latest technology

Experienced consultant ophthalmologists

Detailed pre-surgery work-up

All ophthalmic diagnostic facilities under one roof

Dedicated counsellors and surgical co-ordinators to solve each of your queries and doubts.

Exclusive modular OT with jointless flooring for optimum sterility

Extensive post-surgery care

Dedicated anaesthetist at all time
GRADES OF CATARACT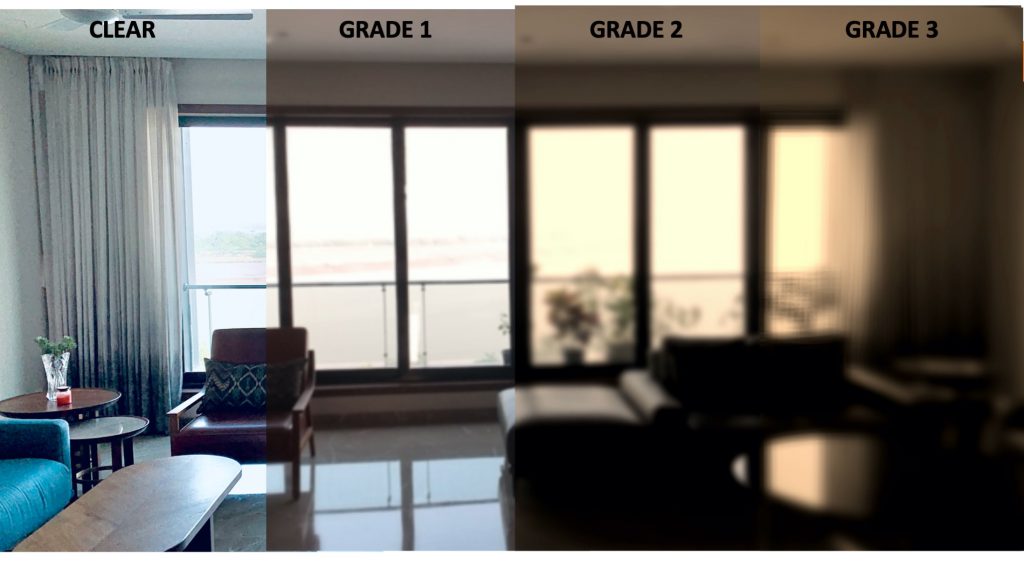 PHACOEMULSIFICATION
Phacoemulsification – is a sutureless type of cataract surgery wherein a machine with an ultrasound probe is used to emulsify (break down and remove). As the entire cataract is emulsified in situ, a smaller incision of 2.4-2.8 mm is sufficient for this cataract procedure (smaller incision size results in lesser astigmatism and thus better quality of vision). A foldable intraocular lens is implanted after the emulsification of the nucleus. This surgery is performed under topical anesthesia as a day care procedure after which the patient is free to go home. This is a painless and modern cataract surgery technique that offers quick healing and faster recovery.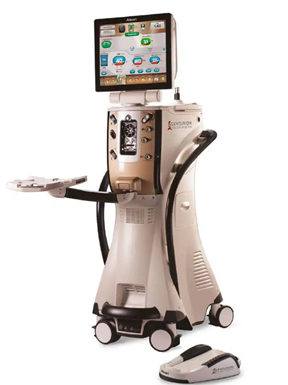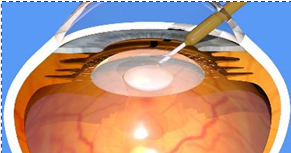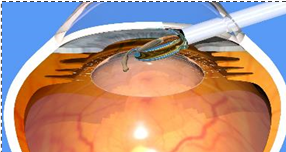 MICS (MICRO INCISION CATARACT SURGERY)
MICS (Micro Incision Cataract Surgery) – In this type of advanced cataract surgery, the standard phacoemulsification is performed with an incision size ranging between 2.2-2.4 mm as it has the benefit of faster healing and induces lesser astigmatism.
CATARACT SURGERY LENS OPTIONS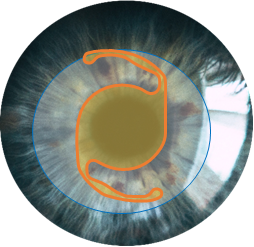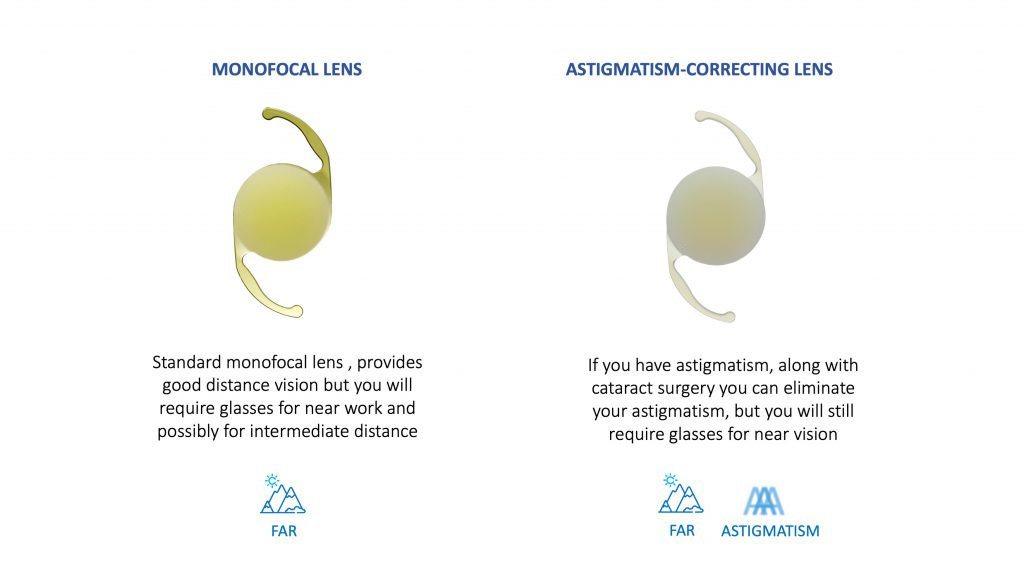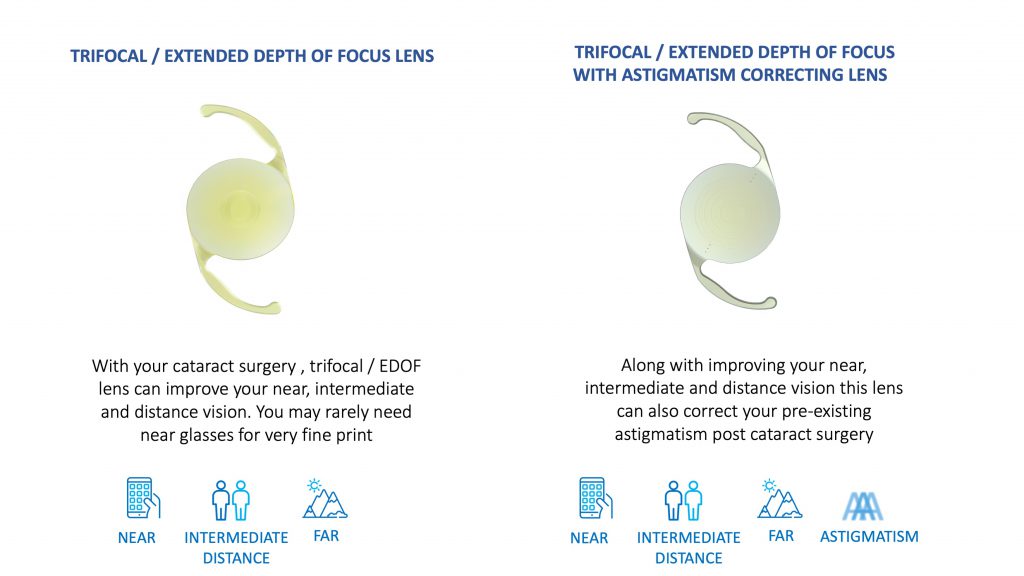 CATARACT CONSULTATION – PATIENT PROCESS FLOW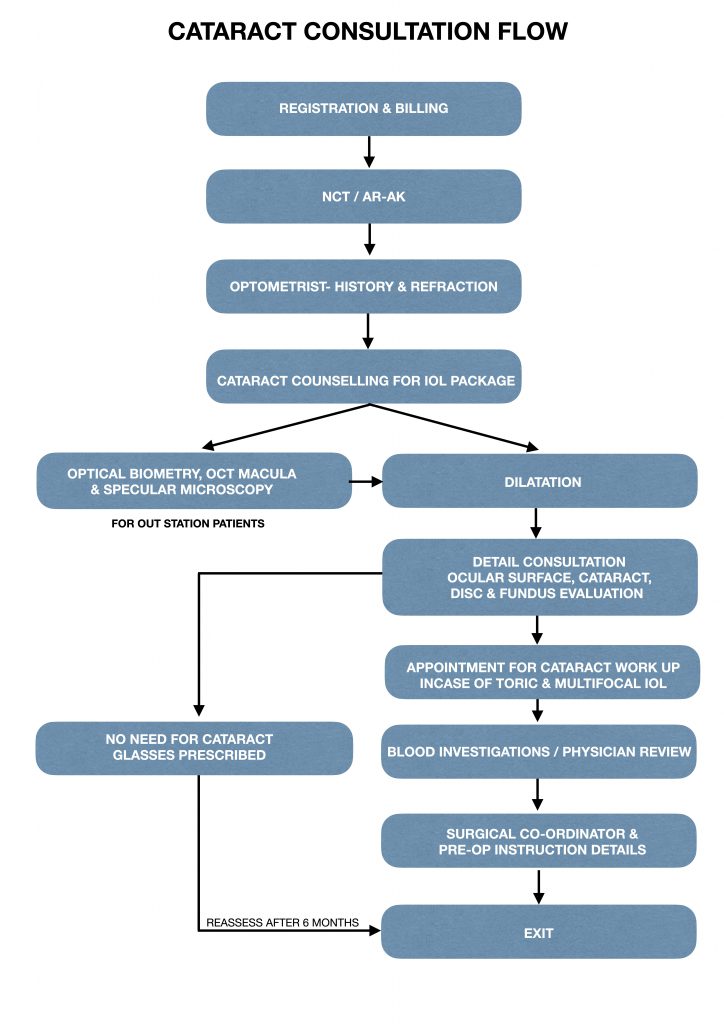 Cataract FAQs
WHAT HAPPENS WHEN A CATARACT DEVELOPS?
The natural lens inside our eyes is clear. As the light passes through the clear lens, it focuses onto the retina , the optic nerve carries there signals to the brain. With age the proteins in the eye form clumps and the lens gradually becomes cloudy. This obstructs the passage of light and interferes with clear vision.
CAN CATARACT BE REVERSED?
Cataract development cannot be reversed. However, cataract blindness can be reversed with cataract operation and intraocular lens implantation.
CAN I HAVE CATARACT SURGERY IF I HAVE DIABETES?
Diabetic cataract surgery – Patients with diabetes have multiple issues which can lead to diabetic cataract surgery complications. Though cataract surgery in diabetic patients poses many challenges, cataract procedure can be successfully performed in diabetic patients with careful preoperative planning, extra attention during surgery, and close after cataract surgery care. Though people having cataract with diabetes require more extensive evaluations before cataract operation and need close post-operative supervision, they can achieve excellent vision after cataract surgery if their blood glucose levels are well controlled. 
IS CATARACT SURGERY SAFE?
Yes,Cataract surgery is one of the most commonly performed surgeries in the world and has a good safety record, with minor or very rare complications.
CAN CATARACT CAUSE BLINDNESS?
Yes the cataract can lead to continued vision loss, which can affect day-to-day living and quality of life, if left untreated. As it progresses, the maturing cataract can turn the lens completely white or brown and you could probably only feel the presence of light. Without treatment, it could eventually lead to total cataract blindness. It is recommended that everyone above the age of 50 should get their eyes checked once a year.
WHAT ARE CATARACT RISK FACTORS?
Aging is the major factor. Other than aging, cataract risk factors include a previous eye injury or inflammation, a previous eye surgery, excessive exposure to sunlight, medical conditions such as diabetes and high blood pressure, genetic abnormalities, smoking, ionizing radiation (treatment for cancer) and prolonged use of corticosteroid medications. 
WHAT ARE CATARACT TREATMENT OPTIONS?
It is a simple surgery when the cloudy lens is removed and replaced with and artificial intra ocular lens.
Pre Operative Instructions for Cataract Surgery FAQs
What should I do prior to the day of cataract surgery?
Please read through all the instructions given on your pre-operative instruction sheet by our counsellor. You must continue with your systemic medication unless advised to stop prior to the surgery. Make sure to carry all your medical records with you. You must make sure you use the pre-cataract surgery eye drops advised to you. And most importantly sleep well.
Should I carry the pre cataract surgery eye drops with me to the hospital?
Yes. Please bring all the medicines and pre cataract surgery eye drops with you on the day of your cataract surgery.
Can I take my regular medication on the day of cataract surgery?
You must continue your medication for systemic illness, unless specifically instructed to stop.
Can I have breakfast on the day of cataract surgery?
Yes. You should have a light breakfast (normal diet) before coming to the hospital
Can I wash my hair on the day of cataract surgery?
Yes. Please wash your hair on the day of cataract surgery as you will not be able to do so for 10 days post cataract surgery. You must not apply oil or other hair products to your hair.
Post Operative Instructions for Cataract Surgery FAQs
WILL I HAVE ANY PAIN IN MY EYE AFTER CATARACT SURGERY?
There could be mild discomfort, blurring , watering and mild soreness post surgery, but no severe pain. Few patient feel mild irritation in the eye for a day. Your eyes maybe slightly red post surgery However most of these symptoms settle down within a few days. In case of pain you will be prescribed a painkiller tablet in the post operative period.
WHEN SHOULD I COME BACK FOR FOLLOW-UP VISITS POST CATARACT SURGERY?
All your post cataract follow up visits will be scheduled for you during your visit. You must not miss your follow up visits.
HOW LONG DO I HAVE TO KEEP MY EYE COVERED AFTER CATARACT SURGERY?
You will be provided with protective eye wear to prevent injury, dust, foreign body. You must wear this till the final check up is completed. You can take them off before going to sleep. Do not cover your eyes with a piece of cloth or a hand towel.
HOW SOON CAN I GO HOME AFTER THE CATARACT REMOVAL SURGERY?
Post cataract surgery you are advised to rest for 45 mins, after which you can go home as per your comfort.
WHAT CAN I EAT AFTER CATARACT SURGERY?
There are no dietary restrictions post cataract surgery, however you must follow your regular diet especially if you are a diabetic. Immediately post surgery you can have a light snack.
WHAT SYMPTOMS ARE NOT SO COMMON AFTER CATARACT SURGERY AND HAVE TO BE ATTENDED TO IMMEDIATELY?
In case you experience symptoms of worsening or loss of vision, spots (floaters) or flashes in vision, increasing redness, increasing pain despite the use of pain medications, pus discharge, and persistent irritation post cataract surgery, you need to see your doctor immediately.
WILL THERE BE IMBALANCE IN VISION AFTER CATARACT SURGERY ON THE FIRST EYE?
Often patients complain of imbalance in the vision after the cataract surgery of the first eye. Vision will balance out after the second eye is operated.