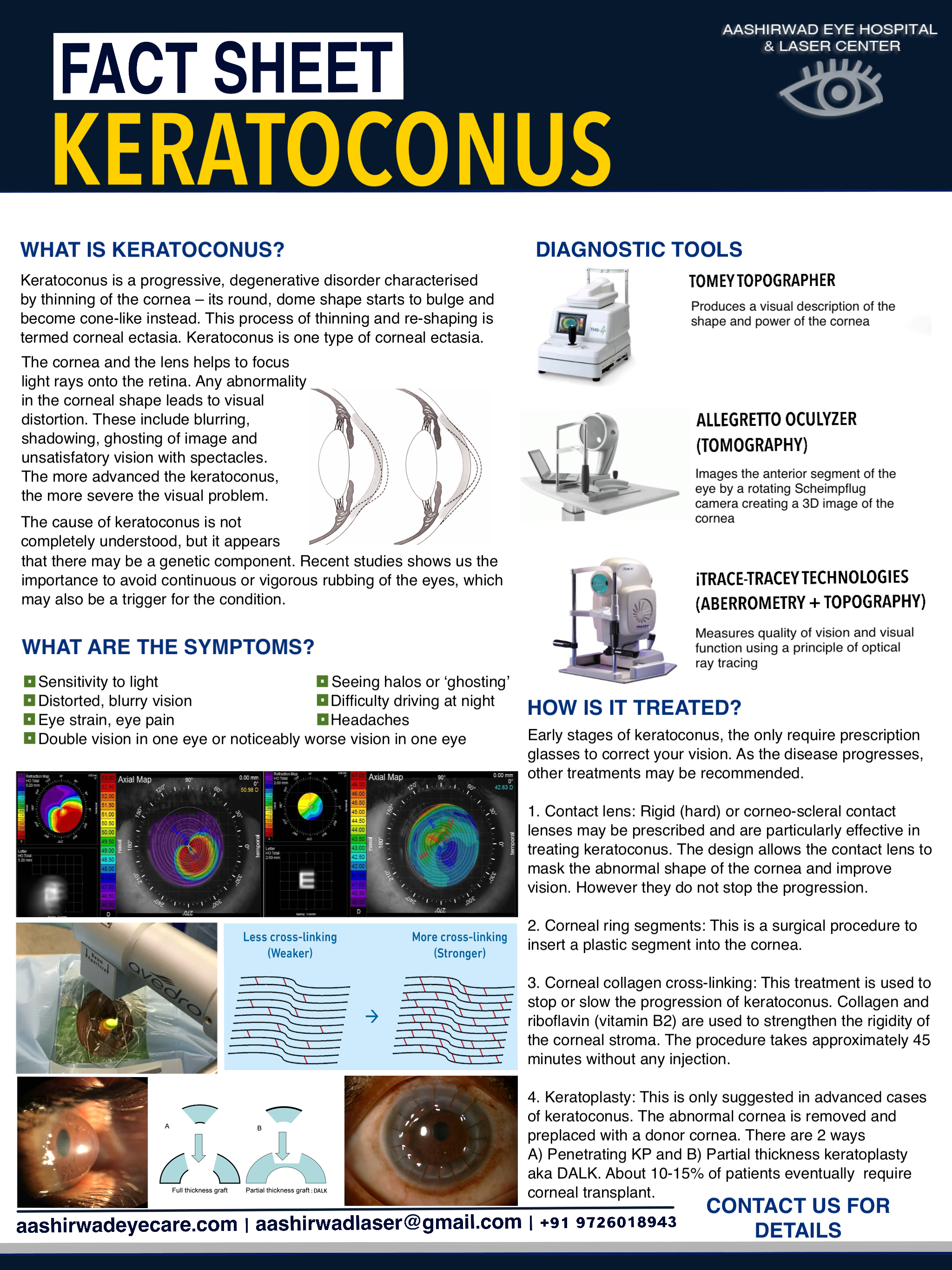 The prevalence of keratoconus, which affects nearly equally men and women, is estimated to range from 4 per 100,000 persons to 600 per 100,000. The majority of instances of Keratoconus, a condition that often starts during adolescence and develops into the mid-30s, include both eyes, however each eye may experience the illness at a varying rates of progression and at a different time.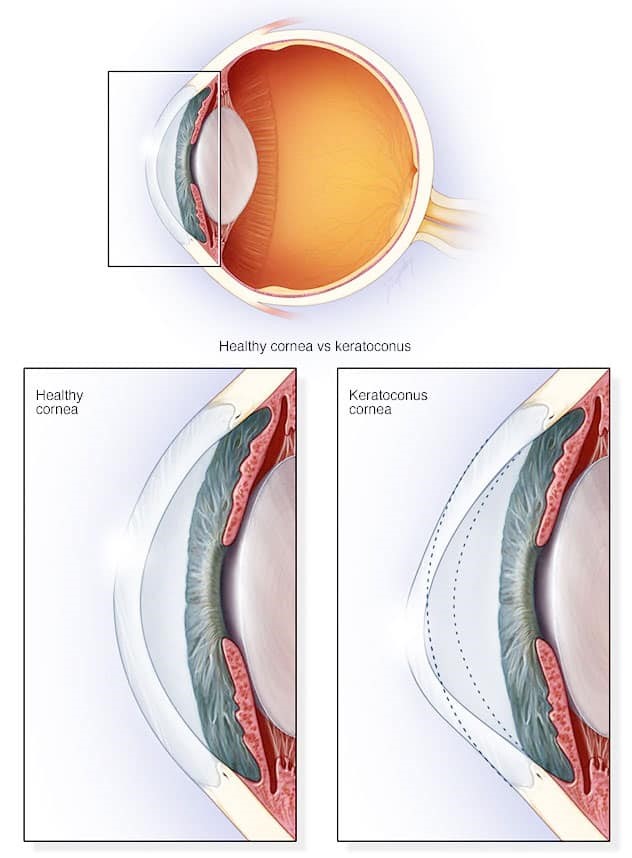 The cornea thins and bulges into an atypical cone form in Keratoconus, impairing vision. The middle layer of the cornea, which is also its thickest layer, is mostly composed of water and the protein collagen. The cornea's strength and flexibility are a result of collagen. This cornea is in good health, which helps you see well.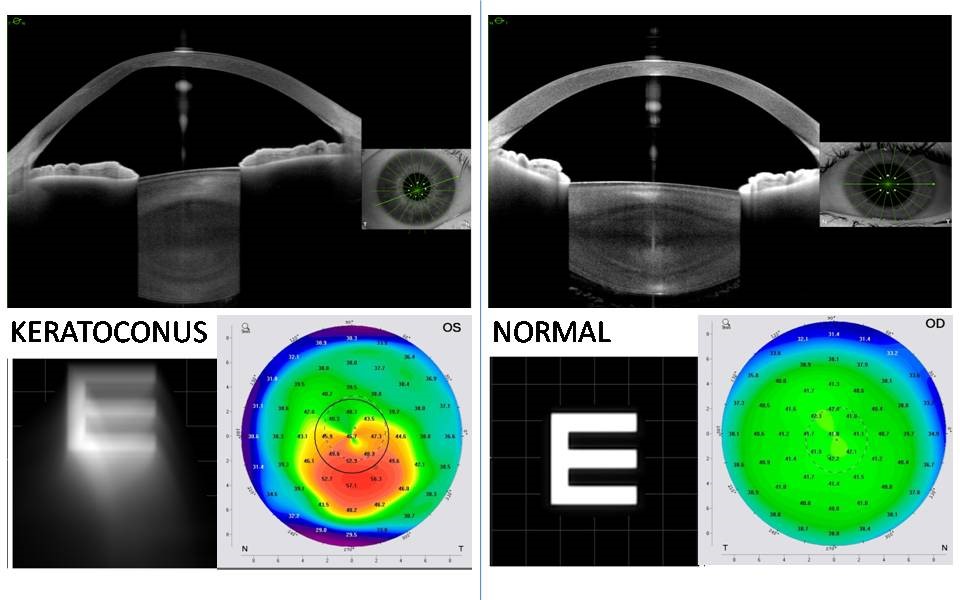 SOME RISK FACTORS associated with keratoconus 

Heredity
Eye Allergies and chronic eye rubbing
Poorly fitted contacts
Overexposure to ultraviolet rays
Certain diseases, including retinitis pigmentosa, atopic disease and connective tissue disorders.
Down Syndrome
Advanced Diagnostics – All under one roof

Corneal topography
Pentacam
Anterior Segment OCT & Epithelial Mapping
iTrace abberomentry
Treatment options
Based on the stage of keratoconus , there are many treatment options available which stabilized the cornea and tries to improve your quality of vision.
1. Contact lens
Special contact lens designed for irregular corneas have been successful in improving the quality of vision. Our contact lens trained optometrist will check for the fitting and determine if they are suitable for your eyes.
Some of the specialty contact lenses available at AEH:
Semi-soft contact lens,
Rigid gas permeable lenses (RGPs)
Corneo-scleral contact lenses
Rose K contact lenses
2. Corneal collagen cross-linking
Collagen Cross Linking is a procedure to stop or slow down the progression of Keratoconus which shows promising results worldwide. The process involves removing the skin (epithelium) from the surface of the cornea and riboflavin eye drops that are applied to the cornea every 2 mins for 30 mins. The eye is then exposed to UVA light for 10 minutes. The process involves strengthening the bond between the corneal collagen so as to stop further weakening and bending of the cornea. This treatment does not improve your vision but just stabilizes the cornea to prevent worsening in the future. So following treatment it is essential to use spectacles or contact lenses for visual rehabilitation.
3. Excimer laser in Keratoconus
A topography guided excimer laser ablation is done on the cornea based on the corneal topography, followed by corneal collagen cross-linking. This process is recommended for selective patients based on the topography. The laser is used to make positive change in the visual axis (line of sight) so as to regularize and improve visual quality.
4. INTACTS
INTACS are implantable intracorneal ring segments (ICRS). These segments are inserted into the corneal stroma to provide mechanical support and regularize the corneal surface.
5. Corneal transplantation
Advanced cases of keratoconus require corneal transplantation for appropriate visual rehabilitation in very thin corneas and / or vision cannot be corrected by rigid contact lenses.